Revolutionary Eye + Neck Complex
Combat dark circles and frail skin.
It's time to talk about taking care of some of your most delicate skin – under your eyes and your neck. While we might not be able to help you get more sleep every night, we can help you tackle those pesky dark circles and frail neck skin. Our Intensive Eye & Neck Complex contains Swiss apple stem cells paired with retinol and tripeptide molecules to provide the newest, most potent technology to transform areas around the eyes, neck, and chest for noticeable results.
Adding our Intensive Eye & Neck Complex is just step one in enhancing your skincare routine. Here are a few other tips for treating your delicate skin well.
 Be gentle when applying cream to the fragile skin under your eyes and neck. Always pat product into your skin instead of rubbing.
Also be gentle when removing makeup. We suggest using a makeup remover to gently wipe off makeup. Again, don't tug and pull the gentle skin.
Protect your skin with SPF. Make sure to protect delicate skin with our Vitamin C+ Sheer Defense SPF 30. Pat along your eye (but careful not to get it in your eyes!) and neck area.
Drink plenty of fluids throughout the day to keep your skin hydrated. Caffeinated beverages and alcohol dry out the skin and should be consumed in moderation.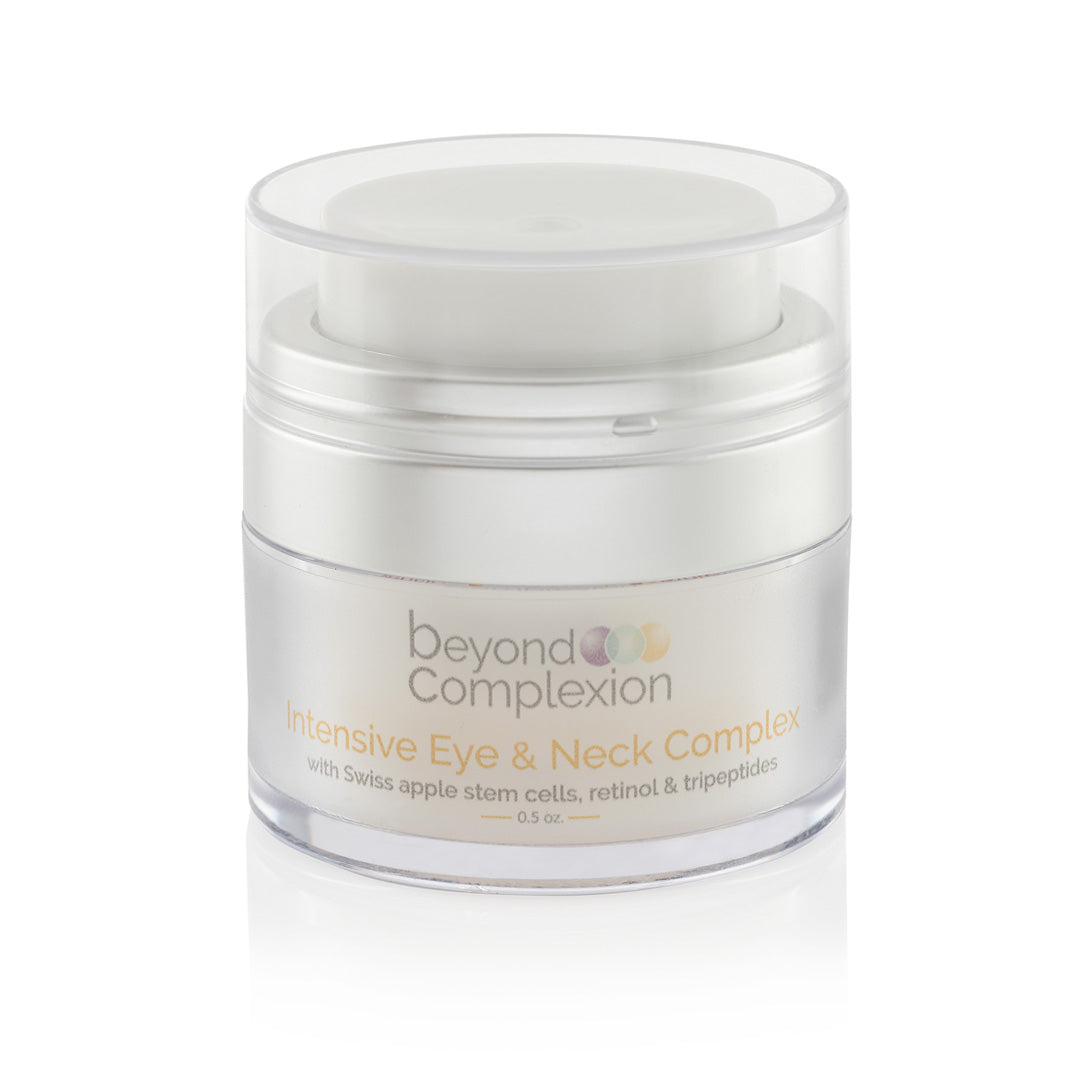 Learn more:
Our Intensive Eye & Neck Complex addresses pigment-related conditions such as sun spots, brightening and smoothing the skin where it's needed most (aka dark circles and fine lines!).
Rice bran and soy peptides provide a natural moisturizing and brightening solution that targets dark circles and locks in moisture. It is also packed with vitamins A, C, and E, nourishing skin cells for a youthful glow. In addition, the anti-aging properties of the ingredients restore, tighten and firm delicate skin on the neck and décolletage.