We know you've heard it before – sleeping in your makeup is one of the worst things you can do to your skin. But what about just washing your face? What you might not know is that sleeping in your makeup or not cleansing your skin before bed – even for just one night – might seem harmless, but over time it can cause extensive damage to your skin.
As you sleep, your skin takes the time to renew itself. When your skin is coated with a layer of, usually oily, makeup or residue from the way, pores get clogged which can lead to breakouts. When the pores are clogged, the skin can't renew itself, causing it to look fatigued, maybe even aiding in the creation of fine lines and wrinkles.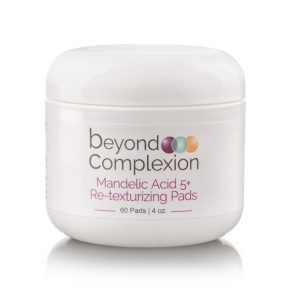 Our solution?
Our Mandelic Acid 5+ Re-texturizing Pads. Easily minimize the appearance of pores while exfoliating and brightening skin. These pads tackle a range of skin woes – from acne to hyperpigmentation to aging – and are best used after washing your face in the evening.
Did we mention…
Mandelic acid is a natural anti-bacterial solution. This combats clogged pores while boosting cell regeneration and elasticity. The result? Say goodbye to wrinkles, fine lines, and dark spots.
Tips & Tricks…
Everyone's skin is different, so use every other day to start.
Step 1
Wipe pad across forehead with moderate pressure (not too much at first!). From the forehead, move to cheek and down to jawline. Then wipe pad upward to cheek.
Step 2
Repeat on other side of face.
Step 3
Last, apply to nose and chin. Careful around corners of mouth and corners of nose, where skin is more sensitive. *Do not use more than once a day if skin around the mouth is too sensitive.